Now, you can easily add a swing anywhere in your backyard with the cedar pergola swing kit. Plus, you can decide exactly where you want your swing to go without having to depend on the location of a tree or your porch. See New Pergola Swing here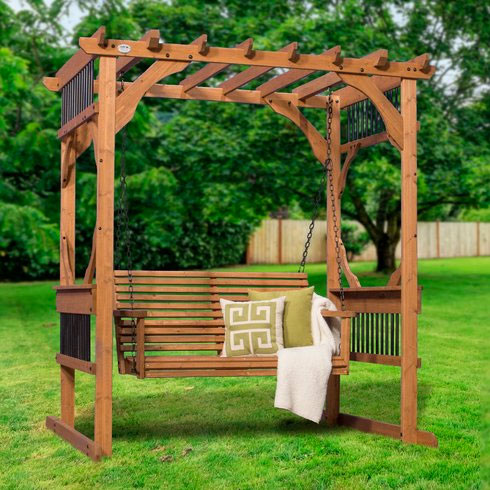 This swing set can even support vines or climbing flowers! If you've ever wanted a tree swing – but you don't have a large tree in your yard – here's your chance.
Note: If this swing is out of stock, check out the Cambridge Style Cedar Arbor Swing. You can get it in 2 different widths (60″ or 72″ wide), plus it comes in 9 different stain finishes.

In addition, A&L Furniture has a larger 8'x10′ Amish-Made pergola swing set that comes in a variety of different stain colors.
1. This Cedar Swing is Sturdy, Durable & Low Maintenance
This well-constructed and long-lasting pergola swing withstands all sorts of weather. In fact, it resists water, mildew and rot. Plus, it is UV-resistant. I love outdoor furniture that requires minimal maintenance because then I can enjoy it more.
2. Turn this Comfortable Backyard Swing into a Comfy Sofa
In addition, the curved shape of the swing seat is very comfortable. Add a few outdoor pillows and a throw blanket, and you've got an inviting spot for reading a book, chatting with friends or enjoying a nice glass of wine.
3. It's Easy to Assemble the Pergola Swing: Here's How

This unit does require assembly. However, two people can easily assemble it in an afternoon.
The lumber comes pre-cut and pre-stained, plus all hardware is included in the package. Tools needed for the job include a screwdriver, hammer, level and wrench. That's it.
Want more information? You can see assembly and set up instructions here.
4. The Pergola Swing is Affordably Priced
-pergola combo for about $1200. Plus, it ships for free. I actually expected it cost much more, considering that you get both a pergola AND a swing. No complaints here.
Cedar Pergola Swing Kit Specs:
Dimensions: 7'3″tall x 6'10" long x 5'6″ wide
Weight: 180 lbs
Weight Capacity: 600 lbs
Material: Cedar Wood, Stainless Steel Hardware
About the Company and Product Reviews: Backyard Discovery