Do you want to create an outdoor living room without spending a lot of money? Coolaroo aluminum pergola kits are easy to install, plus they look really cool. (Not to mention, the entire frame with canopy costs under $600!)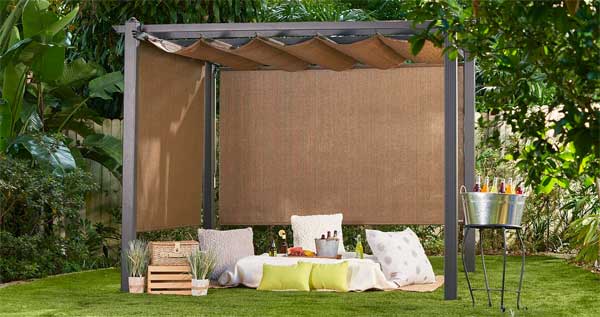 How a Coolaroo Pergola Can Upgrade Your Backyard:
As you can see, one of these inexpensive pergolas can transform a boring outdoor space into an inviting area to entertain.

In addition to providing shade and wind protection, the shade canopy can also lower the temperature. Of course, this makes your outdoor room even more comfortable. =)
I really like the sophisticated, architectural design because you can enhance the appeal and functionality of your home without much effort. In addition, the simple, modern look won't go out of style and leave you with an out-dated piece of furniture.
In fact, I think this is the best deal on an aluminum pergola kit that I have seen. Well, the Sunjoy Naples pergola also has a great price, but the Coolaroo pergola still costs less.
Bonus: Aluminum Pergola has Adjustable Louvers that Open and Close!
You can easily retract the overhead canopy for sunbathing, star gazing etc. Plus, this handy feature makes it much easier to protect the canopy fabric during the winter months.
How to Help Your Coolaroo Pergola Last Longer:

Speaking of winter months, you want to take care of the shade canopy to extend its life. Although the weather resistant fabric also blocks UV rays, sun, wind and rain can do damage over time.
For example, the entire frame weighs less than 60 lbs. Therefore, a hefty windstorm can move the frame around if not properly secured.
Not to mention the lightweight fabric. (Which, by the way, does not support large amounts of snow as some people have found out.)
Note: I personally spray a fabric protectant on all of my outdoor fabrics every year. Plus, I move furniture indoors or to a more protected area during the winter. This strategy has worked well for me.
This is a Well-Designed Outdoor Pergola for a Cheap Price:
Having said all that, the aluminum frame has a powder coating finish to prevent rust. In addition, the metal will conveniently not fade, crack or rot.

Furthermore, the weather resistant Coolaroo knitted fabric has a "breathable" design, which allows air through to cool the space. Not to mention, it also helps prevent mold and mildew.
In other words, this aluminum pergola is easy to clean and keep looking good for many seasons. This maintenance-free design makes this a winner in my book, even though it is considered a "cheap outdoor pergola".

Note: Also keep in mind that while the pergola canopy is shading your outdoor room, the UV-repelling fabric is also protecting your furniture underneath. (Including cushions, carpets, throw blankets and more.)

Therefore, even if you decide to replace the shade canopy every several years, remember that this simple sheet of fabric is helping to extend the life of your outdoor furniture. And, most likely saving you money.
How to Add More Shade and Privacy to your Coolaroo Pergola:
The contemporary pergola frame along with retractable roman style shade canopy can definitely upgrade the look of a plain backyard. However, you can upscale your outdoor living room even more with Coolaroo outdoor roller shades.

Add a privacy screen from neighbors, increase the shade or even hide an ugly air conditioning unit. In other words, a simple pull-down shade can do multiple tasks at once while providing a temporary wall. See also: Easy Installation Instructions.
Specs for Coolaroo Aluminum Pergola Kits:
Dimensions: 108″ Long x 108″ Wide x 86″ Tall (9 Feet x 9 Feet)
Weight: 54 lbs
Frame Material: Powder-Coated Aluminum
Canopy Material: HDPE (High-density polyethylene), Light-Filtering, 90% UV Block
3 Canopy Color Options: Mocha, Terra Cotta or Smoke (Doesn't Come in Black)
Child-Safe Cordless Operation (no cords or chains)
5-Year Fabric Warranty Against UV Degradation
Model #: Constantine 481100, 481117, 481124 (depending on color)
Assembly Required, Hardware Included in Kit
Brand: Coolaroo, Contact Company
Manufacturer:

Gale Pacific USA, Inc.

, Phone: 407-772-7900

Note: By the way, Sunjoy makes a similar pergola if you want a grey canopy. The dimensions measure 10 feet long by 8 feet wide (VS 9′ x 9′ of the Coolaroo).

In addition, the Sunjoy Naples pergola has a steel frame that weighs about twice as much.

Although the steel makes the frame stronger and sturdier, it also weighs more and is more difficult to move.
2 More Big Advantages of Coolaroo Aluminum Pergola Kits:
1. Easy to Assemble: Another benefit of portable pergola kits is that they offer quick and easy assembly. You can put it together yourself (2 people works best) in a couple of hours or less.
2. Easy to Move: In addition, you can easily move or dis-assemble this outdoor structure when needed. For instance, move it from the patio to the lawn for a party. transport it to a different location for a special event. Or stick it in the garage at the end of summer.
Compared to custom built or attached aluminum pergola kits, portability can provide a big advantage. Especially, if you want shade structure that you can move.
Note: The manufacturer also states that their fabric are earth friendly, recyclable and endorsed by GreenGuard, the Melanoma International Foundation and Oeko-Tex.
In summary, I don't think that these aluminum pergola kits are too cheap. In fact, I think that they are very well made. The trick to keep them looking good and lasting a long time comes down to the proper care and maintenance tips that I mentioned above.