Do you like the look of a custom-built backyard structure, but you want to save some money by building it yourself? Backyard Discovery's rustic pergola kits make the job easy. Plus, they look professionally-built when you/re done.

How Cedar Pergola Kits Provide the Perfect Solution:
Note: The secret is their pre-cut, pre-drilled and pre-stained cedar pieces with heavy-duty hardware. You simply follow the instructions, fit the included hardware into place and fasten the beams together.

This pre-packaged rustic pergola kit makes your DIY project a lot easier. (Not to mention, it saves you a ton of time.)
Plus, when your backyard structure is fully assembled, it won't look like an amateur built it.
The pergola's multiple cross beams and sturdy posts provide the ideal framework for growing vines or even hanging potted plants. Plus, many garden trellises are constructed of cedar because this wood resists rot. Therefore, this structure is perfect for growing trailing plants.
Alternatively, you can leave your pergola plant-free and still enjoy open air and partial sunlight through the upper beams. In fact, the finished stained cedar looks so nice that you may not want to cover up the wood with plants.
How to Add Pergola Canopies for Extra Shade:

On the other hand, you can buy pergola canopies that you can use to create additional shade or privacy. You can buy inexpensive shade panels that you can adjust and remove as needed.
YesCom makes a 2-piece canopy set for about $50. The polyester fabric has a waterproof coating and UV protection. You can choose from tan or green.
Tips to Create a Cozy Outdoor Room Under Your Pergola:
Note: By the way, the interior area of this cedar structure measures 9 feet long x 7 feet wide. Therefore, you can set up a large family-size table underneath or even an outdoor living room.

For example, most larger patio loveseats measure about 6 feet in length, so they can easily fit underneath this 9′ x 7′ pergola.

Even a cozy sectional sofa (This one only measures 6 1/2 feet long)! Talk about adding an extra room to your house. =)
Specs for Rustic Pergola Kits:
Dimensions: 12 feet Wide x 10 feet Deep x 7 feet 10 inches Tall
Headroom: 6 feet 7 inches
"Interior" Space: 63 Square Feet
Interior Dimensions Between Posts: 9 feet wide x 7 feet deep
Weight: 383 lbs
Material: Cedar (pre-stained)
Color: Brown
Model #: 6214
Assembly Required
Manufacturer:

Backyard Discovery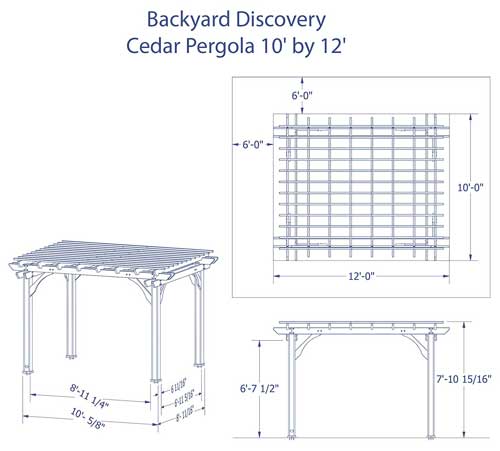 How to Assemble a Backyard Wooden Pergola Kit
Although this rustic-looking cedar pergola looks custom-made, it is fairly simple to assemble. In fact, the wood comes pre-cut, pre-drilled and pre-stained for your convenience.
The following video shows how the parts look when they arrive, how to put together and erect the pergola and how it looks when completely assembled.
The pergola uses "Safe-T-Fuse" hardware, including powder-coated metal brackets to add extra strength to the structure. Plus, the durable resin feet come fit concrete anchors.

Furthermore, the upright corner posts have diagonal braces that add an additional level of structural integrity. You don't have to worry if you are not a master carpenter. Backyard Discovery will make you feel like a pro when you're done assembling this masterpiece.
You will need a few basic tools, plus a ladder. Get a drill, a level, a square, tape measure, Phillips screwdriver, mallet, Phillips head and socket driver drill attachments and a concrete drill bit.
The assembly instructions provide complete step by step instructions as well as helpful images showing how to attach the hardware. If you have additional questions or need to order replacement parts, you can contact the company toll-free at 1-800-856-4445.
Another Cool Pergola Features: Resin Footings that Hide Anchors

To complete the upscale look of this rustic-looking pergola, the package comes with durable resin feet that fit at the base of each post.
You can secure them to a concrete surface with the included concrete anchor bolts. Alternatively, you can use the footings to secure the pergola to a deck or as a base on a lawn.
In any case, these sturdy resin feet give the posts a more finished look and an easy way to attach the structure to the ground.
Even though these cedar pergola kits can save you money compared to hiring a contractor, these elegantly crafted frames are not cheap.
In fact, where it's all said and done, you can easily spend about $2,000 on the pergola, lights, furniture, plants and/or shade canopies. Thats said, that's cheap when you think about adding an extra room to your house. Just saying. =)
Shop Rustic Pergola Kits:
Decorating Ideas and Why Rustic Pergola Kits Don't Go Out of Style…
This classic pergola styling can take on an Italian country farmhouse look or have a modern feel, depending on the decor you use. You can check out my favorite pergola decorations, including lights and curtains. In addition, you can look at photos and pictures on Pinterest.com for design ideas for your outdoor structure.