Want a quick and easy shade structure in your backyard that you can also secure to the ground?The Sunjoy Naples Pergola adds style and sophistication to any deck or patio. However, you can save a bunch of money because you can set it up yourself!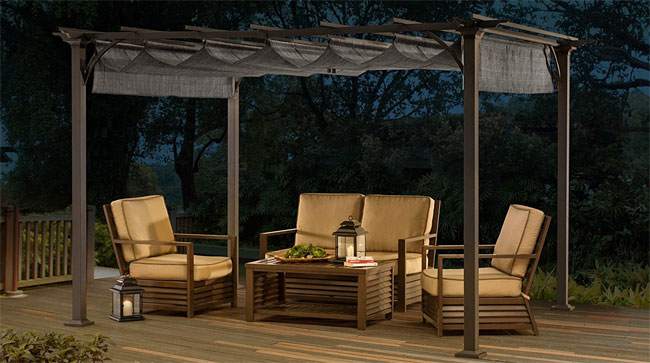 Sunjoy makes a portable pergola conveniently larger than the standard 9′ x 9′ size. It measures 10 feet long x 8 feet wide, with a height of 7 feet. (And it doesn't cost much more!)
This larger size works perfectly for creating outdoor living rooms, patio dining sets or conversation areas. You can fit more people and furniture underneath the canopy.
That said, the pergola is still lightweight. The frame only weighs a surprising 135 lbs! This makes it much easier to set up, install and move.
Is the Naples Pergola Cheap or Well-Made?
This DIY pergola kit comes with a heavy duty frame that has a powder-coated finish. Therefore, the metal resists rust, corrosion and chipping. In other words, it is strong and will stay looking newer for longer.
In addition, the retractable top canopy is made from a weather-resistant polyester fabric. Plus, it contains UV protection.
Note: You can hand wash the canopy fabric, but the manufacturer does not recommend putting it in a washing machine.
Why I Like this Pergola Canopy:
I like how the canopy comes in 2 pieces. This gives you more versatility in how you shade your space. Draw it all the way across for full shade, open in all the way to see the stars at night, or create a center "sun roof" for partial sunlight. See what I mean here:
The canopy is easy to move by hand. Plus, the simple piece of fabric adds contemporary elegance to an otherwise plain frame.
In short, the Naples allows you to upgrade your home without having to spend a bunch of money. If want an easy and low-cost renovation project that can add value to your backyard, this is a great one.
Sunjoy Naples Pergola Specs:
Dimensions: 10 feet long x 8 feet wide x 7 feet tall
Color: Black Fame, Grey Canopy
Frame: Heavy Duty Steel, Powder Coated Finish
Weight: Approximately 135 lbs
Package Includes Frame, Canopy and Ground Stakes
Model #: L-PG080PST-2
Assembly Required: Instruction Manual
About the manufacturer