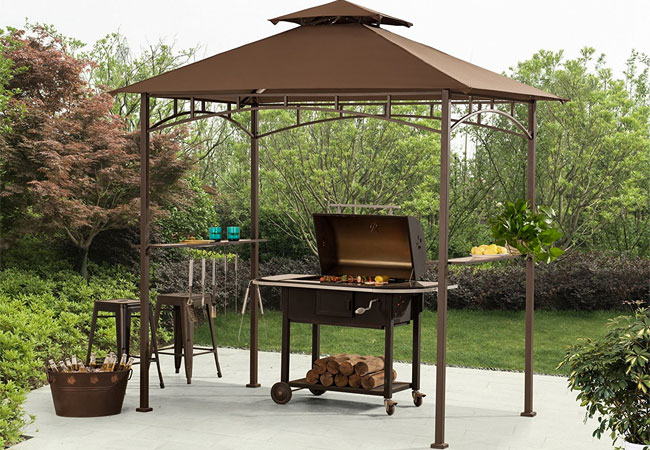 Sunjoy Grill Gazebo
Why I Love this Sunjoy Grill Gazebo:
In short, I think this portable BBQ grill gazebo sells at a steal of a price. It gives you protection from sun, rain and some wind while you are cooking. Plus, this set-up also provides light, table space and a place to hang your cooking tools.
In addition, it has a sophisticated, stylish look and can even upgrade the look of a plain-looking patio. And don't forget, you can move it around! It only weighs about 45 lbs.
At a price tag of only around $100, this portable gazebo really offers a lot of advantages.
For Example, the Gazebo Canopy Has a Great Design.
First of all, the vented, two-tiered, soft-top canopy provides better stability in windy conditions. (By the way, you can also secure the legs of the structure to a deck if you want to.)
Second, the slanted layout of the canopy allows debris to slide off the roof easily. This means less cleaning and lower maintenance over the many years that you use this portable structure. Of course, most gazebos have this features, but I think it's worth mentioning.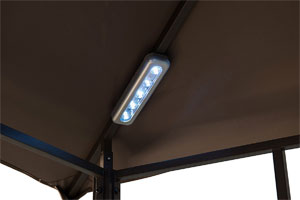 Third, it has lights! Being able to grill at night or have extra light while cooking is super convenient. This comes with not one, but 4 long-lasting LED lights.
Therefore, you don't have to buy separate grill lights (than can cost $20-40 apiece) or stop cooking when the sun goes down. This feature also gives you more versatility as to where you set up your cooking area.
Plus, the Gazebo Comes with Shelves and Hooks
When you're grilling, extra tabletop space comes in very handy. The two side shelves built in to the gazebo can hold food, drinks, dishes, utensils and more.
You can have all of the supplies you need at arm's length while you're cooking. Furthermore, you can use these shelves as bar tables for guests who want to sit around the grill while you cook.
Due to its portable design, this BBQ grill gazebo makes a great addition to any backyard where you plan on grilling or entertaining. It's quick and easy to set up an move when needed, yet the build is sturdy enough to last for many years of regular use.

Get Gazebo for About $100 | $150 at Lowe's

You can buy a complete weather-resistant grill gazebo canopy replacement set (double-tiered) on Amazon for as little as $30. In addition, Sunjoy Group also sells replacement canopies from their site.
Sunjoy BBQ Grill Gazebo Specs
Dimensions: 8′ long x 5′ wide x almost 8′ tall
Frame Material: Steel & Aluminum, Powder-Coated & Rust-Resistant
Shade Material: Weather-Resistant Polyester
Weight: 45 lbs
Includes 4 LED Lights