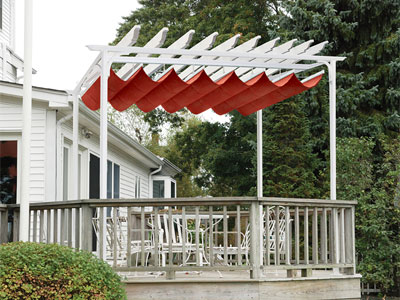 A pergola is an easy way to enhance the look and functionality of your outdoor space. But what about adding a canopy?
Pergola canopies can be built-in to the top frame or sold as an add-on. They can also be retractable or stationary. Some even extend down the sides.
In short, they can make pergolas better than they already are. Personally, I think a pergola canopy is a good investment and worth considering. I share my top 5 reasons why below…
1. You: More Stylish & Sophisticated.
For minimal cost, a canopy can add a pop of color and some softness to an otherwise basic structure. (You don't have to hire a professional designer to make your back deck or patio look like you spent a lot of money.)
Whether you want a shade that blends in with your home or stands out as an accent color, we all know that awnings can completely change the look of a building – for the better.
2. More Shade = More Comfort = More Fun.
Pergolas do provide some shade but they do not completely block it out. That's where a canopy comes in handy. Many people who live in hot climates or who plan to use their deck or patio in the middle of the day like this feature.
Another nice benefit (if your pergola is located next to the house by a large window or sliding glass door) is that the canopy can keep sun and heat out of the house too.
3. Don't Let Poor Weather Keep You Inside!
A canopy lets you enjoy your pergola more often by protecting you from wind and light rain. The more comfortable your patio or deck is, the more often you'll use it, right? In my opinion, this factor alone makes a sunshade worth the extra cost.
NOTE: I would not let snow accumulate on the sunshade, and I would retract it in harsh weather conditions. As with any outdoor fabric, the better you care for it, the longer it will last and the better it will look.
4. Can a Pergola Canopy Reduce Your Energy Costs?
As I mentioned above, when located outside a large window in your home on south and west-facing windows. Energy.gov reports that "Window awnings can reduce solar heat gain in the summer by up to 65% on south-facing windows and 77% on west-facing windows".
The same goes for pergolas with canopies. Who knew they could hep you pay your bills? =)
5. Will Your Outdoor Furniture Last Longer?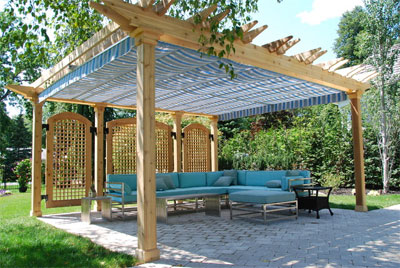 According to Awnings.com, "Awnings save energy and protect furniture, floors and carpets from fading". This may seem like an obvious fact, but some people don't think about it until it is too late.
Many homeowners choose to create outdoor living rooms or conversation areas underneath their pergolas.
In addition to spraying your furniture with a protective fabric guard, the overhead cover adds another layer of protection to help your furnishings look better for longer as well.